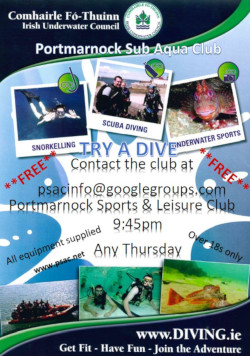 Try a Dive

Ever wondered what it's like to scuba dive? To float effortlessly in the water, while breathing away normally? The nearest thing to a gravity free feeling unless you go into space. Well, now is your chance!

Contact us at any time to set up YOUR 'Try a Dive'. Go to our 'Contact' page and send us an e-mail with your contact details. We will get back to you to make all arrangements.

What do you need? Absolutely nothing! We provide all the equipment necessary. Our qualified instructors will give you all the basic and necessary information for you to 'Try a Dive'.

Our pool sessions start at 9:45 but come along a little earlier to meet with our Crew.

We do have an age limit - unfortunately you must be over 18 to participate.

---
You will have to sign a Medical Disclaimer like this one:

Try Dive

Medical & Liability Disclaimer

Sub-aqua diving is a sport that requires general physical fitness and good health. Anyone with a medical history of diabetes, blackouts (epilepsy, etc.), perforated eardrums, high blood pressure or heart disease, any lung or respiratory disorder (such as Asthma), or dependence on drugs, may not be able to dive safely and so MUST seek specialist advice before contemplating taking up this sport, including a Try Dive. Pregnancy is also a contra indicator for diving including Try Dive.

Try Dives are available on the understanding that the persons taking part:

a) Consider themselves medically fit and do not suffer from any of the disqualifying conditions mentioned above.

b) Will, in the interest of safety; comply with all instructions given to them by the instructor.

c) Are able to swim and be confident in the water.

Every precaution will be taken for the safety of visitors however the club reserves the right to terminate the session should there be reason to doubt fitness, ability or suitability to dive.